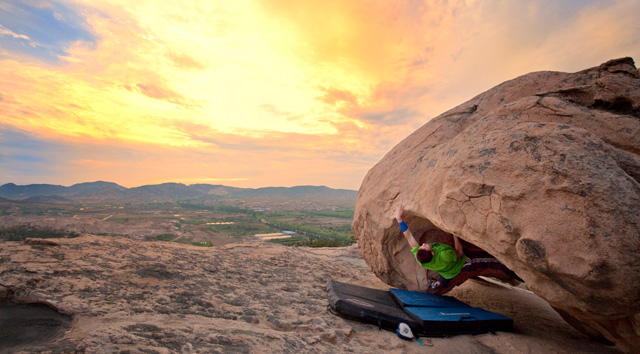 We've recently mentioned the Qingdao International Beer Festival a few times (tipsy mascots and Ctrip Beer Fest deals, specifically), but for a real taste of what to expect, there's no better place to go than straight to the source:
QINGDAO(nese)
, the excellent English-language Qingdao expat news, events and opinion blog. Whether you've been to Qingdao or not, it's a great up-to-date resource for things to do and see in the city that hosted the 2008 Olympics sailing events, chosen for its gorgeous waters, shoreline and steady sea breezes. Frequent QINGDAO(nese) contributor
Steven
looks forward to this year's festival and features reminiscences of last year's via the author of
Battered Leather Journal
(a self-described "unemployed attorney photographer travel junkie" who is doing his thing in China), who found "fairly astounding, for so many reasons." To wit:
My immediate reaction is to the sheer magnitude of the event, all dedicated to drinking beer – it is the biggest beer festival in Asia. And I've never been to Oktoberfest, which must be the only thing that compares, so this is a revelation for me. There are huge pavilions from breweries around the world ("No way, Hofbrauhaus!? We've been to that brewery in Munich!") enticing you with benches and tables to sit and drink and stages offering a wide variety of performing acts all day long. We watch singers and dancers; beauty pageant bathing suit competitions; fire breathers; belly dancers; the Asian Destiny's Child, complete with multiple matching wardrobe changes; a wailing alto sax player; and, in an odd change of pace for how late into the night and how drunk everyone is, a guy playing a very traditional Chinese stringed instrument. ("Beer, Beer and yes, Beer!")
Sounds good to us. But suppose you don't
like
beer for some reason. What has Qingdao got beyond bountiful suds and beery parties? The great outdoors, for one. Blessed by some of northeast China's finest beaches, freshest sea air and bluest skies, the city ("Qingdao" means "green island" in Mandarin) is a great place for outdoor activities. And it takes full advantage of just that, making the most of the year's best weather in July, August and September....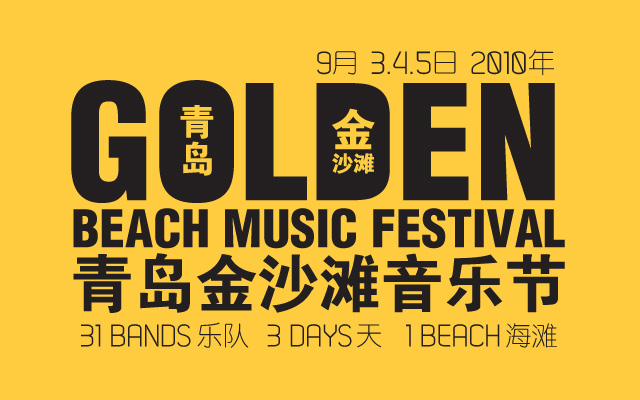 There's plenty of info on QINGDAO(nese) about a slew events taking place in and around the city, but one in particular caught our eye: the
2010 Golden Beach Music Festival
(September 3-5). Featuring local bands as well as visitors from Beijing (including the edgy high-energy punk of the
Subs
) plus an entire day devoted to "experimental and improvisational music" (September 3). Folk, rock and a general multi-genre mix of good music on the beach: sounds
really
good to us! And if you're not sure about it all, well, check out this write up of
last year's festival
by Pete DeMola (h/t Qingdao(nese)) and this piece on the exciting
experimental music scene brewing in Beijing and around northeast China
, also by Pete DeMola (via Shanghai music scene stalwart
Andy Best
). But back to Qingdao–we'll simply have to post separately on all the exciting music and festivals taking place in China. (And if you can't wait, just check out this China Music Radar piece on
China's "Year of the Festival."
) So... yes, Qingdao. And rock. They go together like beer and the beach. But there's one last bit of Qingdao(nese) wisdom we'd like to pass on. Rock isn't just loud music—it's also a nice hard mineral substance that's perfect for climbing when it occurs in the form of gigantic boulders. And when it comes to the exciting subcategory of rock climbing known as bouldering, Qingdao is happening, as QINGDAO(nese) notes in "
Qingdao, China: A Bouldering Destination
." It's not a local secret, either; the article's key quote comes from a recent rave review of Qingdao's climbing scene from
Climbing.com:
Qingdao is becoming one of the most popular bouldering areas of China. In the spring, climbers from around the world come to boulder here, including Chris Sharma, Davin Bagdonas, Joe Langwald… Davin Bagdonas said about Qingdao: "It was a huge relief to end up in a place that has amazing amounts of really good rock, a huge number of boulders, and a crew that only wants to climb. In all the places I've bouldered, by far the area in China around Qingdao has the most rock. Millions of boulders sit under hundreds of crags and tumble from multi-thousand-foot mountains down to a long rocky coast on the Yellow Sea."
The QINGDAO(nese) post is accompanied by some amazing photos of some tenacious cats clinging to some so-nasty-they're-nice boulder faces, all shot by qdrocker—visit his site for more beautiful
photos of Qingdao
beaches, boulders and cityscapes (the light is gorgeous up there and the man knows how to use a camera!). Anyway, we're convinced. Qingdao rocks. The only thing to do? <
Book a Qingdao flight
pronto and join in the fun.