Qingdao (青岛) literally translates to "Green Island." And though neither an island nor particularly green, it is a great retreat from the horn-blaring "late-for-my million-dollar-meeting" bustle of a Beijing or Shanghai, offering sandy beaches, fresh seafood, impressive concession-era German architecture and the nearby Taoist mountain retreat of Lao Shan, which is also the source of the spring water used to brew Tsingtao, the beer that made Qingdao famous. Whether taking it easy on one of the city's five beaches or snacking on curbside barbeque skewers with a bag of Tsingtao Draft (yes, it's often consumed via plastic grocery bag), you're sure to find something relaxing to do. And for the more adventurous, the city has its secrets. While this Yellow Sea port and home of the 2008 Olympics sailing events offers a host of popular tourist sites and activities (Qingdao Polar Ocean World, Tsingtao Brewery Tour, a Lao Shan day hike), it's best appreciated at a slow, relaxed pace. Downshift from big-city speed and you'll find the seaside resort town at the heart of this mid-sized Chinese metropolis. I like to ease along at the pace of a favorite reggae tune—"
don't worry about a thing...
"—and take things as they come, sleeping in, strolling the boardwalk that runs along the city's waterfront, dining late
alfresco
on seafood feasts (be sure to try the stir-fried spicy clams), and enjoying one of Qingdao's lively bars until the wee hours.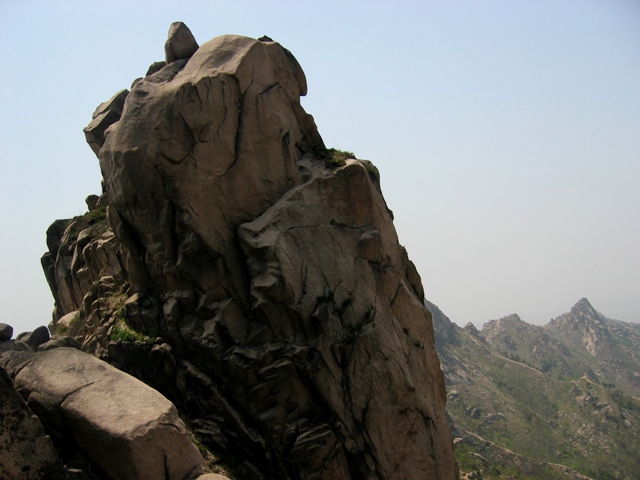 Once you've settled in and relaxed and, perhaps, done a bit of the tourist scene, you should be ready for a truly unique local experience: hiking Fushan (娴北). Fushan rises just high enough above the city to offer spectacular views, but it's rugged and low enough to have so far avoided the Qingdao Tourism Board's obsessive need to build, build and build some more. What this means for your laid-back down-low Qingdao itinerary is that you won't find any marked trails, stairs, rickety cable cars, souvenir vendors or hotels or any of the other familiar "famous Chinese mountain" features. In fact, you won't find any signs of human tampering except for the occasional local hiker. And best of all, the mountain is conveniently located right behind Qingdao University, providing ease of access—and with no competition from swarming tour groups in matching hats led by bullhorn-toting guides. Now for the necessary warnings: Fushan is not for those suffering from fear of heights, claustrophobia, fear of the dark, amathophobia (fear of dust), bogyphobia (fear of the bogyman), or for those suffering from any other phobia, for that matter. That's because, as you'll see, Fushan is not only about what you see from the top of the mountain, but what you see
inside
the mountain. While not exceptionally high (one can reach the ridgeline in 20 to 30 minutes), Fushan rises abruptly, forming a long craggy ridgeline resembling a dragon's backbone. The ascent is steep but short, and you'll quickly find yourself looking down on Qingdao University and out toward Shilaoren Beach (Old Stone Man Beach) to the southeast. Lao Shan rises further to the east, and the skyscrapers of Qingdao's business district tower to the southwest. Once on the ridge, you'll see clearly defined goat trails running up to the rocky summit. As this is not one of China's five famous mountains, you won't find any calligraphy carved into the summit's huge granite slabs, but you will find a nice breeze, blossoming daisies in the spring and just a slight hint of traffic rumbling from below. The summit is marked with a weathered concrete lookout post of military origins that appears to date back to the early twentieth century. After taking in the 360° view of Qingdao, you'll have two choices for your descent: 1) backtrack to your original starting point; or 2) make the slight scramble down to the ridge below and explore the old mountain tunnels before continuing down to Shilaoren Beach—Qingdao's longest sand beach—for a much deserved bag or two of beer.
Many a tale exists about the Fushan Tunnels—they were bunkers and secret artillery depots during WWII, they served as some sort of special forces training site, they were the lair of the evil chemist who concocted
chou doufu
(stinky tofu). Whatever the case may be, two sets of tunnels remain accessible: a short one about 100 meters long, with an entrance on the mountainside nearest the sea terminating in a flight of stone steps and a lookout point, and another far more enticing tunnel opposite the first. The entrance is located under a stone bridge and slightly blocked by a stone door, and leads to a complex containing untold rooms, a well, and passageways exiting at different points around Fushan. Venture into the tunnels at your own risk, bring a couple of flashlights, a mobile phone (though it likely won't work in the tunnels), at least one friend, and be prepared to get the heebie-jeebies for several hours to come in a place that can bring to mind the "Mines of Moria" scenes from
The Lord of the Rings
films. Once you have had your fill of these cryptic tunnels, return to the outside world and stroll down the trail on the ridge facing downtown. Though its more of a bushwhack than a clear trail, it quickly exits onto a road that passes through a pleasant vineyard before ending up at an apartment complex not far from Shilaoren Beach. From there, hit the beach for a bite of local food or hail a cab and head on to your next destination.
Directions to the Fushan Trailhead:
Take East Xianggang Rd towards Qingdao University; turn left onto Qingdayi Rd and continue to the end of the road; turn right onto a small, unnamed road at the top of the hill. The trail begins on the right side of the small pond and continues upwards to the ridge. The path separates and comes back together, but all paths lead to the top. Allow at least an hour for the climb and return, and another couple of hours to explore the tunnels.
Getting to Qingdao:
There are over 15 direct Shanghai-Qingdao flights daily, servicing both Hongqiao and Pudong International airports. Full fare runs around RMB 740 (USD 104);
Ctrip.com
offers great discount fares as low as RMB 370 (USD 52). Visit Ctrip for details or call their 24-hour call center at (86 21) 3406 4888 (extension 6 for English).
Staying in Qingdao:
If you want to return to luxury accommodations after grubbing around in tunnels and drinking and eating on sandy beaches, the five-star No. 1 Swimming Beach (that's it's actual name, though it also the most popular beach in town), is hard to beat. Rates start at RMB 558 (USD 79) for a single and run to RMB 1400 (USD 197) for an ocean-view deluxe suite. There are many options for the budget-conscious, including the
Qingdao University International Hotel
, handy to Shilaoren Beach and Fushan. You can get a standard twin room with free internet for CNY 290 (USD 41). For price comparisons and more Qingdao hotels, try
Ctrip.com
online or via the 24-hour call center. Photos © 2008 by Ezra Voth. All rights reserved.