The wail of prayers from the Id Kah Mosque made it hard for me to believe that I was still in the Middle Kingdom. But there I was, walking the narrow streets of Kashgar's Old Town past men in kufi skullcaps, veiled women and bazaars selling rugs, spices and silk, all of which gave Kashgar an aura I'd always associated more with the Middle East than the Far East. Indeed, Kashgar feels as exotic to a Chinese tourist from Chengde or Chengdu as it does to an American or an Australian. In a city where more than three-quarters of the city's residents are ethnic Uighur, the faces on the streets of Kashgar often look more like people from Istanbul or Islamabad than Shanghai or Xi'an. And not only do the Uighur look different than most of there fellow Chinese citizens, they sound different as well. The Uighur language, a member of the Turkic language family, uses a modified Arabic script and you'll see few signs Kashgar in either Chinese or English. Kashgar's unique culture is reflected in its location: over 1,220 meters (4,000 feet) above sea level, Kashgar lies between the vast
Taklamakan Desert
to the east and the
Pamir Mountains
—one of the tallest and most imposing mountain ranges on the planet—to the southwest. Add it all up, and you won't find a place like Kashgar anywhere else in China. My brother and I decided to check out the best of the old
Silk Road
city before heading out into the nearby mountains.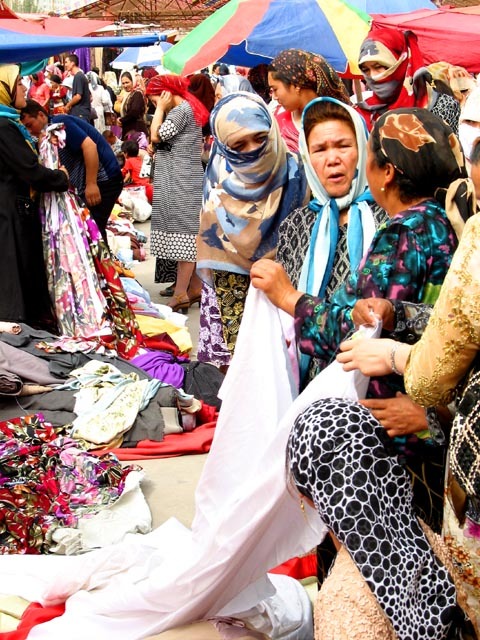 The Sunday Market
"You know, I don't think it is possible for us to get farther away from home than where we are right now," my brother said. I nodded and laughed. We were at the Kashgar animal market, in the middle of a dirt field on the outskirts of town. Men with long white beards schmoozed over cattle, boys tried to impress their elders by keeping their animals in check, and farmers hauled newly purchased goats and cows (no pigs in Muslim Kashgar) around in three-wheeled tractors painfully small for the task. We'd just come from the largest outdoor market in the world, the Kashgar Sunday market, where every week tens of thousands of people from the region surrounding Kashgar descend upon the city to buy, sell, and barter. We'd gotten to the market early, at 6:30 a.m. I'd forgotten that Kashgar time is two hours off the official standard Beijing time. Though painfully early, the market was already abuzz, with sellers setting up for the onslaught of people that was set to arrive in the coming hours. Fathers barked orders to sons, daughters helped their mothers lay out silk, and a handful of buyers wandered about looking for early-bird specials. By 8:30, the energy in the air was electric. As an ancient Silk Road
trading post, the market is a Kashgar tradition that goes back many centuries, and it was obvious that the people of Kashgar are virtuoso buyers and sellers. Simply watching the action was an incredible experience, as market-goers haggled over silk, carpets, Iranian saffron and hand-crafted knives, just to mention a few of the dazzling array of goods for sale. After a full morning of prime people watching, it was off to the livestock market, its Kashgar cowboys and Uighur goatherds, for a taste of rustic Xinjiang. The next day, we'd head even deeper into China's Far West, taking on the Pamir Mountains.
Lake Karakul
The sights, smells and spectacle of being in one of the most remote cities make Kashgar exciting, but the sight of
Lake Karakul
, four hours to the southwest via the famous
Karakoram Highway
, simply takes your breath away. One of the most accessible spots in the rugged Pamir Mountains, at 3,962 meters (13,000 feet) above sea level, Karakul's air is crisp and refreshing. There are no trees to block your view of the mountains—you're above the tree line and, even if there were a few trees, some of the world's tallest mountains loom to the north, east, and south. If the peaks of
Kongur Tagh
(
7

,6

49 meters/
25,095 feet),
Muztagh Ata
(
7546 meters/
24,757 feet) and
Kongur Tiube
(
7530 meters/
24,705 feet) fail to impress you, you should give up traveling all together. The immensity of these mountains is staggering.
The mightiest of them all is Muztagh Ata, which translates to "Father of Ice Mountain" in the local Uighur dialect, it's easy to see how why it's considered the daddy of them all. If you're feeling up to it, Muztagh Ata is reputed to be the world's easiest mountain of 23,000 feet or higher to climb thanks to its relatively gentle slopes and dry weather. The base camp, littered with mountain climbers is just about a ten minute drive past Karakul Lake on the Karakoram Highway. Personally, Muztagh Ata looked amazing enough from the comfort of the shores of Karakul.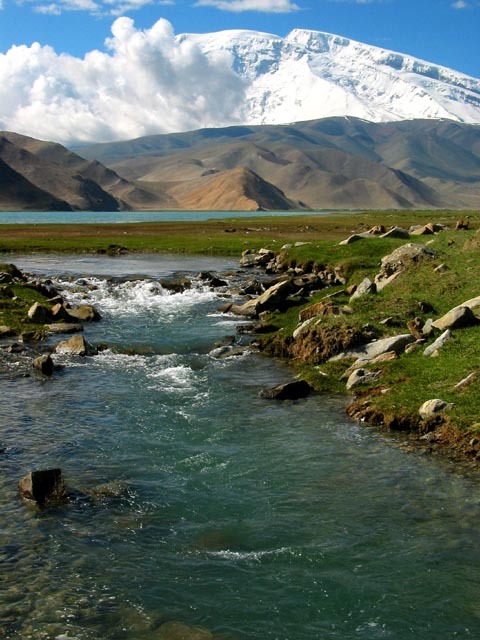 Wanting to see the area on our own terms, my brother and I politely refused the locals eager to house us in their yurts and instead began a circuit of the lake on our own. We'd brought camping gear, and prepared to spend the night out in the elements. As the sun was setting, my brother and I sat down on the ground outside our tent near the lake in silence. The mountains, vivid sunset and fluffy clouds reflecting in the lake said all that needed to be said. China's Far West had left us speechless.
Getting there:
Flying is easiest, unless you have time to burn on long bus trips across Xinjiang's high desert country. Kashgar Airport is about ten kilometers north of the city and is served by over ten flights daily to and from Urumqi; the trip takes about an hour and a half. It's a good idea to book tickets as far in advance as possible. You can fly into Urumqi from cities around China. Check
Ctrip.com
for deals on flights. As for transportation to the countryside beyond Kashgar, tours can easily be arranged in at hotels catering to Westerners.
Staying there:
The Qiniwak Hotel, situated on the grounds of the former British Consulate to the northwest of Id Kah Mosque, is one of Kashgar's most atmospheric places to stay, and it's easy on the budget. The more modern Kashgar Hotel, formerly reserved for government officials and located a bit outside of town, makes for a restful stay amidst pleasantly landscaped grounds.
More of Mark's photos of the Sunday Market and Lake Karakul.
Check out Mark's China Blog for more travel stories and photos.