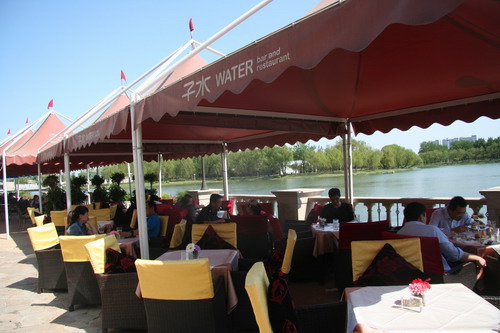 Sightseeing can be thirsty work, especially on the hot and dusty streets of Beijing. There's so much history, art and culture to take in and it can all get rather over-whelming. What better than make a retreat, grab a cold one and mull over the thousands of years of history you've just crammed into one single day.
Hou Hai
,
Qian Hai
and
Xi Hai
lakes are all perennial favorites for travelers and expats alike looking for a pleasant outlet in which to quench their thirst, the lakeside breeze bringing respite from the heat and a least a sense of cleaner air, away from the smoggy downtown streets. But for the first time visitor, how to choose from the many and bars and restaurants that abound along their shores? Well, the guys over at
The Beijinger
have got it covered and put together a great rundown of
Beijing's Finest Lakeside Libations
to point you in the right direction. If none of those spots float your boat then
Beijing Boyce
is just the man to ask. This "somewhat young China hand on the local drinking scene" has got his finger on the pulsing heart of Beijing's nightlife and his site is filled with new openings, special offers and events plus recommendations culled from his own experience and cherry-picked from the experts i.e. the Beijing expatriate crowd.
Gan bei Beiijing!
Beijing Guide -
Beijing Flights
-
Beijing Hotels
-
Beijing Tours