To a new arrival in Shanghai, the construction site on Shaanxi Lu looks no different than any other. Dig a little deeper though, and its extraordinary history over the last century is revealed. In 1928, a dog-racing stadium was built on the site, financed principally by Henry Morris, proprietor of the
North China Daily News
, whose family estate (now the Ruijin hotel) stood a short way to the east. The
Shanghai Canidrome
could seat some 50,000 spectators and was a huge hit with the city's foreign population, who came to gamble, drink and dance in the stadium's ballroom, which featured performances from the likes of
Buck Clayton
. (More pictures like the one above can be found at the ever-impressive
Virtual Shanghai
.)
At various times the stadium also hosted soccer games (in 1941 there was a 20,000 man pitch invasion that left as many as 30 people dead), an Army-Navy American football match, and even monkey jockeys.
But when the Red Terror swept through the city in 1951, greyhound racing was banned, and the stadium was coopted for a different form of entertainnment: public trials and mass executions. Said
Time
: 10,000 people gathered there and...demanded the death of the accused in 'a unanimous roar'.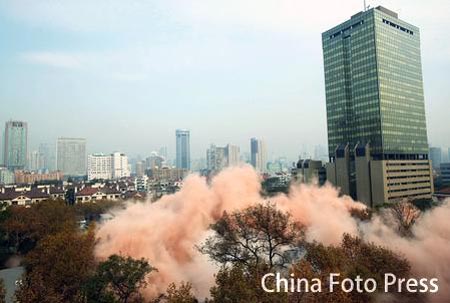 The open-air racecourse was gradually built over, and the site, now entirely indoors and known as the Cultural Plaza (
Wenhua Guangcheng
), was used throughout the Cultural Revolution for public meetings and denouncements. Over time, the focus again shifted to entertainment; it became a performance space for films, theater and exhibitions. In 1997, the now ageing site was turned over to the Shanghai Flower Market, which grew to encompass 200-odd stalls and annual sales of 3.5 billion flowers. This incarnation, though, had an even shorter shelf-life than its predecessors: in 2005 it was
shut down
and, less than two months later,
demolished
, along with the original grandstand.
Plans were already in motion to turn the site once more into a cultural hub for the city: a musical theater within a landscaped park. Yet, in contrast to the city's otherwise frantic rush to build buildings ever higher, the new Cultural Plaza will rise only 22 meters from the ground. Architects
Beyer Blinder Belle
won the contract with a design that puts 70% of the 2,000 seat venue underground (making it the world's largest underground theater).
The above-ground portion will, they say, have "a distinctive elegant curvilinear form that floats in the landscape and is integrated with the historic space frame" (preserving what little of the historic architecture remains was another of the design remits).
Work has been ongoing at the site for several years, but in recent months it's started to take real shape, as the photos below, taken from a nearby apartment tower, show. Workmen could be seen scampering across the unfinished roof over the winter, but the building's facade is now complete. (Those same workers were recently "
treated
" to a performance from the Shanghai Philharmonic Orchestra, in the as-yet-incomplete interior.) Even the parkland looks good to go. There's clearly a rush to get it finished in time for Expo, which looks unlikely; though don't be surprised if it opens soon after May 1.