Rediscover your inner child, hop on a bike, save the planet and see another side of China.
Few types of travel are friendlier to the environment than bicycling, and these days "responsible travel" and "sustainability" are hot topics in China. Of course, in the end it's not all about responsibility, independence or exercise—it's about 
fun
and
adventure
. Biking's PC appeal probably inspires a host of fuzzy feelings, but who can forget their first ride? Mom or Dad removing those training wheels and launching you into the great beyond, cycling always brings back that first taste of independence, and the sudden capacity to explore the world at whim. And even if it's been years since you rode a bike, it's never too late hop back into the saddle. So, whether you want to plan a trip independently or go with a tour, whether you prefer riding through city streets or remote terraced rice paddies, we present our five favorite China bike trips.
1. Bike Beijing: Nine Million Bicycles and Counting...
The bicycle has become an iconic and sentimental image of Beijing to such an extent that it's been commemorated in film and song, from Katie Melua's "
Nine Million Bicycles in Beijing
" to 
Beijing Bicycle.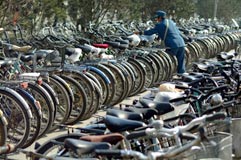 The image of masses of Chinese cyclists navigating ancient streets paints a pretty picture, but bicycles are first and foremost a practical mode of transport, not a tourist gimmick. Indeed, Beijing is made for biking: most roads feature roomy (but often crowded) bike lanes to accommodate millions of commuters. The original "Forbidden City, Bird's Nest and other cultural landmarks. As a bonus, you'll find a bike shrinks Beijing's famously vast distances down to manageable size.  With a rented bike, a decent map and a little preparation, you can create your own customized independent city tours. You might tour the heart of the city, starting out after a hearty breakfast to explore the area around Tian'anmen Square and the Forbidden City, lunch on some Beijing Duck, then bike around Beihai Lake before heading south along the ancient city's north-south axis to the Temple of Heaven and
Tiantan Park
. Or you could plan a longer excursion out to the Summer Palace or even the Great Wall of China (best for at least an overnight trip). Regardless, be sure to bring a good bilingual city map, snacks and plenty of water. You can
rent a bike in Beijing
at almost any guesthouse or hotel. It should come with a lock and run anywhere between 10 to 40 RMB per day. As a rule, Beijing is flat as a pancake, making cycling the city a breeze. However, if you decide on a trek out to the Great Wall, be ready for some pretty challenging grades. For information on organized Beijing bike tours try
bikebeijing.com
or
bicyclekingdom.com
.
2. Bike Yunnan: Dali–Lijiang–Tiger Leaping Gorge–Shangri-La–Deqin
You can't go wrong with Yunnan. This southwestern province boasts some of China's best cycling, popular for its laidback vibe, rugged mountains, minority villages, lush jungle, quaint towns like Dali and Lijiang ,and amazing destinations like Tiger Leaping Gorge. Yunnan is great for both day trips or lengthier tours, including city to city trips. While there are a number of tours, you can just as easily rent a bike from a guesthouse and get a few local directions. Whether you're after a light day trip or an extended trek, Yunnan's amazing geographic variety caters to every plan. While southern Yunnan is often compared to Laos and Vietnam for its tropical rainforests and lush hills, northern Yunnan borders mountainous Tibet and Sichuan, providing cyclists with an amazing range of landscapes to explore. With a week or two and a good set of wheels, it's possible to bike the whole province, north to south or vice versa. For a great report on biking Yunnan from Walter Stanish, complete with maps and photos, go
here
.
3. Cycling Yangshuo: Limestone Karsts, Rivers and Rice Paddies
Shouldered by the
Li River
, surrounded by limestone pinnacles, rice paddy fields and tiny villages nestled in the countryside, Yangshuo is a popular place to spend a few days to a week cycling the meandering roads, hiking through caves, rock climbing, fishing, bamboo rafting and kayaking. Yangshuo's signature limestone karsts make for some of China's most famous scenery. Highlights include the stunning karst scenery,
Butterfly Cave
,
Green Lotus Peak
, Moon Hill,
Yangdi Village
and the scenic 
Yulong River
. Grab a hearty breakfast at one of the many cafes on West Street, then hop on your bike and head out. With one major street in town, you can't get lost, and all major attractions in the area are reachable by bike or boat. You can rent a bike almost anywhwer for 10-30RMB per day. For a
Yangshuo bike map
, go
here
.
4. Sichuan by Bike: Chendgu–Leshan–Emei Shan–Sichuan-Tibet Highway–Nature Reserves
Like Yunnan, Sichuan is a great province for bicycling, but its rugged terrain generally makes for longer and more challenging rides requiring real preparation and good equipment. Your journey will generally start in around 500 meters (1640 feet) elevation in the capital of Chengdu, with snow-capped peaks to the northeast and the Sichuan Basin to the east. Chengdu sits at the center of the province, so it's a convenient place to start or end your trip and to rent bikes and equipment. Sichuan's diverse terrain, stunning scenery, 80 massive rivers and the sparsely populated Tibetan plateau, colorful culture and famous cuisine combine to create one of the most diverse and memorable biking destinations in the world. From Chengdu, you can select several routes: Head south to Leshan and Emei Shan, circle northwest up the
Sichuan-Tibet highway
or head northeast through alpine forests where many of China's finest nature reserves can be found (along with the occasional panda). We recommend you plan for at least a week or two of biking. Generally, roads will be about 60% paved, and 40% unpaved. Off road biking experience is a good idea. Plan to bike from 30km to 130km per day, bring a Chinese phrasebook and be sure to bring a good map.
5. Biking Xinjiang: Riding the Silk Road
Western China's
Silk Road
is the bicycle adventure of a lifetime that's not for the faint-hearted. The Xinjiang portion of the ancient Silk Road, part of the over 9,000 miles of trade route that once linked China to Rome, was once traversed by camel. Today, most travelers access Silk Road sites from Urumqi, which, despite its remote location, is easily accessible by air.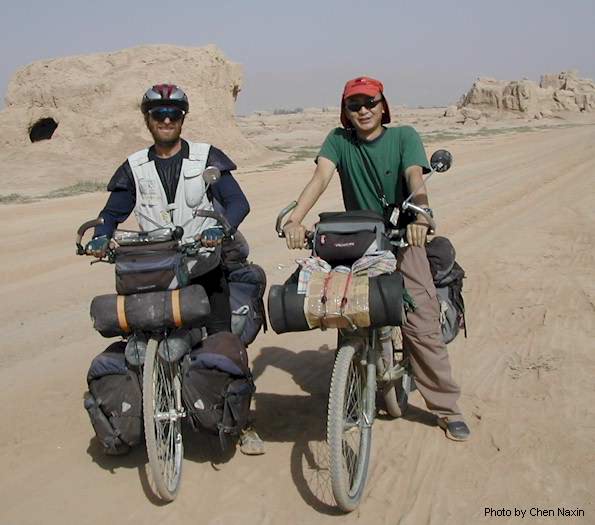 Situated in a pocket of green on the north face of the
Tian Shan
(Heavenly Mountains) and surrounded by expansive grasslands, desert basins and rugged, snow-capped peaks, the ideal Urumqi-based summer cycling itinerary starts out with a ride into Tian Shan, where cyclists can camp or spend the night in a Kazakh yurt on the shores of Tian Chi (Heavenly Lake). While amenities may be scarce and you will need to plan and pack supplies, the stunning mountain ranges, deserts, prairies and basins promise an epic journey. Red Mountain, Tian Chi and the Nanshan Grasslands are all reachable from Urumqi. Xinjiang is huge, and there are many more bikeable spots out in the mountains and deserts, but anything beyond Urumqi-based trips will take some real planning ahead, as conditions can be harsh and supplies few and far between. The desert scenery of the Southern Silk Road, in the vicinity of Kashgar and the
Karakoram Highway
offer rewarding trips for the adventurous (and fit).  For a great story on cycling the Silk Road go
here
. For a proven tour leader, try
Bike China Adventures
, which offers a 16-day Silk Road cycling trip. *   *   * For more bike tours, photographs, maps and general information, we recommend
China Odyssey Cycling Tours
and
Bike China Adventures
. Let us hear about your favorite places for bicycling in China! Touring opportunities abound in the Middle Kingdom as thousands of kilometers of new roads are paved every few months. Vast stretches of virgin countryside, amazing sights and people are just waiting to be discovered. It's simple, in China biking is the way to go!